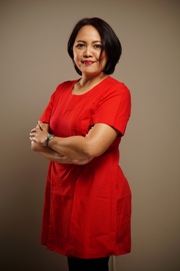 Job Title
Senior Researcher

Qualifications
Stella holds a doctorate in Anthropology from the Australian National University (ANU), Australia. Her PhD thesis titled "Being Muslim in a Christian Town: Variety, Practices and Renewal" offers an ethnographic study of various practices of Islam in Kupang, Nusa Tenggara Timur, that examines the history of the Muslim communities, their mosques, and their leaders' efforts to preserve the Islamic traditions, how Muslim communities deal with pressures for religious change, and their interaction with the Christian majority. 
She obtained her MPhil in Anthropology from University of Bergen, Norway, with a thesis titled "Mending the Shards: Women's Experiences During and After the Ambon Conflict", which examines the roles of women in peacebuilding in post-conflict Ambon. Her undergraduate degree in Sociology was from the University of Indonesia.
---
Job Description
Stella holds the position of a Senior Qualitative Researcher. Her main research interests include Indonesia ethnography, religion, education, gender and development.  She is responsible for developing research designs and project, collecting primary data and being involved in fieldwork, formulating and carrying out data and information analysis, writing project-related documents (e.g., research reports, policy briefs, and articles), providing training for internal and external audiences, and communicating with funding agencies.
---
Previous Experience
Before returning to SMERU, she had had more than seven years of work experience in the development sector, including for The Asia Foundation (TAF) Indonesia and UNDP-led Partnerships for Governance Reform (Kemitraan).
---
Awards
Australia Awards Scholarship recipient for PhD study.
Master Thesis Grants from Norwegian Centre for Human Rights, University of Oslo.
NORAD (Norwegian Agency for Development) Scholarship recipient for Master of Philosophy study.
---
LinkedIn:
https://www.linkedin.com/in/stella-aleida-hutagalung-64b91082/